ALAN OSCAR LUTZ
I have a web site because I can. Now to make it interesting and useful. Since I have been a teacher most of my career, I wanted to dedicate part of this site to students present and past. And then along came Facebook and made it so much easier to get in touch with and share pictures with all my former students.
My Family and current status
For biographical information click "About". But here is where I'm going to tell you that I am married to Nina since October 20, 1979 and we have two children: Ryan Alan born Dec 7, 1984 and Kristiana Rose born June 9, 1998. We live in Orange, CA on Chestnut Ave. Nina's mother, Sigrid Lou Anderson also lives with us. We have a Jack Russell Terrier named Haemish and 3 or 4 cats depending on when you ask.
Currently working at Disneyland
Began working there Feb 28, 2015. I was hired into Adventureland/Frontierland/Main Street Attractions. My first attraction I was trained at was The Jungle Cruise. As a Skipper, we have to know everything around the dock including taking guests around the Jungles of the world.I am also trained to work at Indiana Jones Adventure. When not at either of those places, I work on Main Street as a host for the parades and fireworks shows.
Professional status
I was the Technology Coordinator at St. Paul's Lutheran School in Orange, CA. After 27 years as a classroom teacher, I have spent the last 17 years as in the dedicated position of helping all the other teachers on my campus with their technology needs.
I ended my 40 year career in Lutheran Schools on June 15,2013.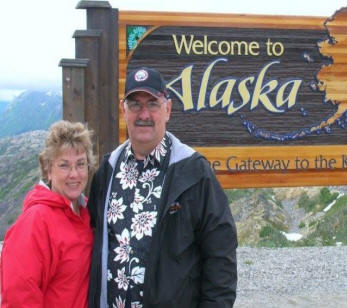 In 2006 My wife Nina and I took a cruise on the Dawn Princess to Alaska. On the day this picture was taken we had taken the train from Skagway into Canada and are on the bus back down to Skagway, Alaska.
For more pictures of the Alaskan trip click here.