About Alan Lutz
As if there aren't enough pages "about Alan Lutz" I am using this revised business template so I still have the "About" page.
I was born March 18, 1951 at Stormont Vail Hospital in Topeka, Kansas. I grew up on a farm near Berryton, Kansas. Well, I didn't really grow up there, just lived there until I was 12 and finished 6th grade then moved to El Segundo, California. That was my home residence until I graduated college and moved to my next location where I had my first teaching position in Pasadena. That lasted 4 years then I moved to the San Fernando Valley, part of Los Angeles but with little community names like Van Nuys and Sherman Oaks. I lived in Panorama City for two years until I got married then Nina and I bought our first house together in Sylmar. We lived there nearly 8 years and the last two in the Valley near my school in Van Nuys. Next we lived in Oxnard for 7 years while I taught 5th grade at St. John's Lutheran. Which brings me to the current location of Orange, CA.
Education: I attended 1-6th grade at Berryton Elementary, KS, 7th grade at El Segundo Jr. High, CA, 8th grade at Trinity Lutheran (ALC) Hawthorne, CA, and 9-12 grades at Los Angeles Lutheran High School. Next California Concordia College in Oakland, CA, and the last 2 years of undergraduate studies at Concordia Teachers College in Seward, Nebraska. (they were both called colleges back then. Oakland no longer exists and all Concordias are now Universities). Got my Master's Degree in Reading and Education at California State University, Los Angeles and also received my California Teacher Credential (valid for Life). Later I took 9 more units of Post-graduate studies in Elementary Administration at CSUN, Cal State Northridge. Also took many courses at Mission College (Jr college) in San Fernando, now Sylmar, and at Computer courses at Santa Ana College. Recently took many professional technical courses at New Horizons in Anaheim.
Schools I Have Taught At
Student Teaching: Interparish School, Williamsburg, IA
First Lutheran, Pasadena, CA, also called Pasadena Lutheran School
First Lutheran, Van Nuys, CA
St. John's Lutheran, Oxnard, CA
St. Paul's Lutheran, Orange, CA
(notice the similarities in the last two schools?!
Click Here for a link to a page of Some of my other web sites.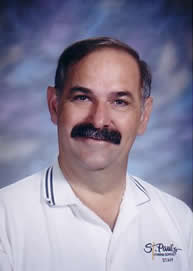 Teaching staff at St. Paul's. I either forgot it was picture day or didn't care that I just had a staff shirt on.
This is probably the last picture taken at school before I began wearing my glasses full time. I even took my last driver exam without glasses and passed.